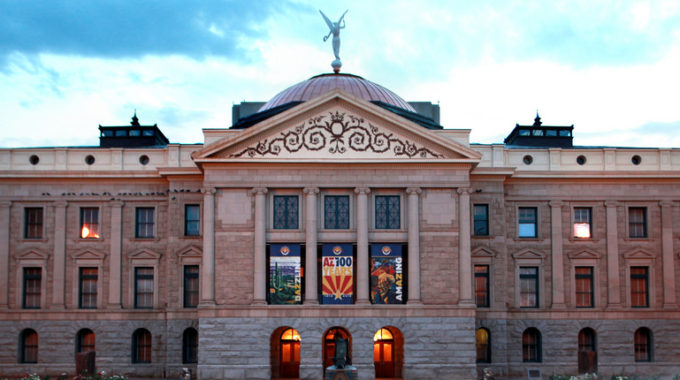 The Capitol Roundup: September 28, 2018
Out in the Open
​At the Statehouse…
Budget staff at the Arizona legislature shared good news about the state budget: almost every tax category brought increased revenues for the state last month. This means the state is expected to end the year without a deficit, and with a balance of more than $400 million in its "rainy day fund."
The Arizona Department of Housing is evaluating a new effort to help tenants facing eviction, and the Arizona Department of Transportation implemented legislation that allows homeless veterans to receive a driver's license or state ID at no cost – a step toward housing and employment.
The Arizona Department of Education announced federal approval of its plan to use excess federal dollars to repay schools $84 million for misallocated special education funding. Underfunded schools will receive the money over the next five years; districts that were overfunded by the state will not have to repay the excess money.
In the News
​The National Juvenile Defender Center reported that Arizona's juvenile justice system needs improvement, and NPR highlighted the ways Arizona uses funding for public mental health services. FWD.us, a bipartisan criminal justice reform organization, released a report on the policies that impact Arizona's prison population.
Attendance Works, a non-profit focused on improved school attendance, took a closer look at why Arizona's levels of chronic absence in school are higher than the national level – and why it is a problem.
In the Courts
The Arizona Supreme Court issued a unanimous ruling that prioritizes children's best interest over parental rights – a ruling that could impact decisions at the Arizona Department of Child Safety.
The Court will also consider another case with big implications for the state budget. This week, it agreed to determine whether the state can continue to use its rental car surcharge for sports stadiums and tourism priorities. A rental car company challenged the state's ability to use the tax for anything other than transportation priorities.
The surcharge is a voter-enacted tax on rental cars and hotel lodging in Maricopa County and Pima County; it provides funding to cover the costs of the Cactus League spring training events throughout the Phoenix region, and for a variety of youth sports facilities and tourism promotions.
If the Arizona Supreme Court rules against the current use of the fee, the state could be required to find a new funding source for sports facilities and repay an estimated $160 million that has been distributed through the taxes.
What's Next
There are more than five weeks until the November general election, but October 9 is the last day to register to vote before the election. Click here to register or verify your registration status.
Political candidates continue their debate schedule; click here to watch past debates or find an upcoming debate.
Candidates for Superintendent of Public Instruction will participate in a debate on KJZZ on October 2 at 7:00 p.m. – click here to reserve your seat. The Superintendent candidates will also participate in a forum hosted by The Arizona Capitol Times – click here for free registration to attend the event.
On the Very Bright Side…
Phoenix Sky Harbor International Airport added a video chat interpreter for travelers who are deaf or speech-challenged, a food truck owner broadened her business to teach cooking skills to individuals with Down syndrome, and summer in Phoenix came to an end without any known loss of children or pets who were left in a hot car.
Action Alert
​Major Recent Events
Bill Introduced to Enhance Benefits for Widow(er)s with Disabilities
Senators Robert Casey (D-PA), Claire McCaskill (D-MO), Kirsten Gillibrand (D-NY), Catherine Cortez Masto (D-NV), and Patty Murray (D-WA) have introduced the Surviving Widow(er) Income Fair Treatment Act of 2018 (SWIFT Act; S. 3457). The bill seeks to fix outdated and arbitrary Social Security benefit provisions for widow(er)s with disabilities and surviving divorced spouses. The bill would: allow widow(er)s and surviving divorced spouses with disabilities to receive 100% of the survivor benefit they are entitled to regardless of their age; give widow(er)s and surviving divorced spouses the ability to increase the value of their survivor benefits beyond current arbitrary caps; enable widow(er)s and surviving divorced spouses caring for children to receive child-in-care benefits until their children are age 18 or 19 if still in school; and require the federal government to proactively provide information to widow(er)s and surviving divorced spouses about benefits they are eligible for, claiming options, and important deadlines. The Arc supports the SWIFT Act as a much-needed enhancement to Social Security benefits. Visit the Senate Committee on Aging to view a press release and learn more about the SWIFT Act.
Senate and House Committees Reach Agreement on FAA Reauthorization Bill
On September 22, leaders of the House Transportation and Infrastructure, and Senate Commerce, Science, and Transportation Committees announced a bipartisan, bicameral agreement on the Federal Aviation Administration (FAA) reauthorization bill. The bill includes a section on improving air travel for people with disabilities and requires Transportation Security Administration officer training to include training on working with passengers with disabilities. The current FAA authorization expires on September 30, so Committee leaders hope to achieve final passage this week.
Senate Approves FY 2019 Defense and L-HHS-ED Package
On September 18, the Senate approved the final appropriations package that includes appropriations for the Departments of Defense and Labor Health and Human Services, Education and Related Agencies (L-HHS-ED) for fiscal year (FY) 2019 that begins on October 1, and a continuing resolution funding the remainder of discretionary spending until December 7. Most of The Arc's priority programs were level funded or received slight increases and controversial policy riders have been removed. Additionally, $300,000 was added to fund the Caregiving Advisory Council established under the RAISE Family Caregivers Act and $5 million was added to fund Care Corps, a network of volunteer caregivers. The House is expected to vote on the package this week. Funding levels for The Arc's priority programs can be found here.
Major Events Ahead
House Committee to Hold Hearing on the State of Social Security's Information Technology
On September 27, the House Ways and Means Committee Social Security Subcommittee will hold a hearing on the "State of Social Security's Information Technology." The hearing will examine "the Social Security Administration's (SSA's) information technology (IT), including modernization, management, and acquisitions." Visit the Committee 
web site
 for more information or to access 
live video
 on the day of the hearing.
​
---
---
The Capitol Roundup is provided weekly throughout the Arizona Legislative session and periodically between sessions as a benefit of Membership in The Arc of Arizona. To continue receiving this publication, visit www.arcarizona.org/become-a-member to start or renew your Membership today!