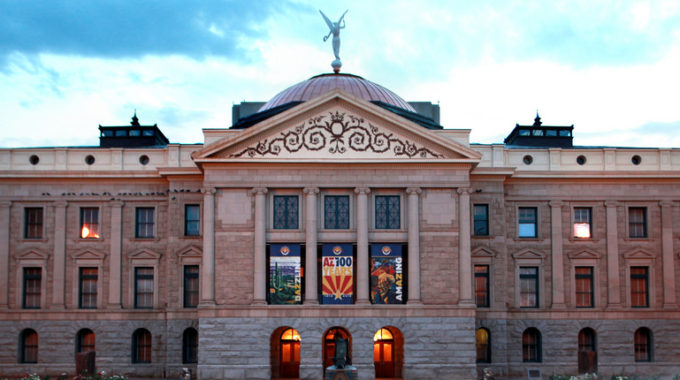 The Capitol Roundup: September 14, 2018
The Will of (one-third of) the People
​At the Statehouse…
The primary election results are final, and Arizona's political candidates have turned their attention to the November general election. The race for the Republican nomination for Superintendent of Public Instruction was very close, and the outcome was delayed until county recorders had counted every ballot. Republican candidate Frank Riggs narrowly won the opportunity to run against Democratic candidate Kathy Hoffman for a four-year term as Superintendent. (
Click here
 to watch this week's debate between the candidates, and 
click here
 to attend an upcoming event and hear the candidates' plans for K-12 education.)
The primary election results impacted the competition between members of the legislature who are vying for leadership roles in the upcoming legislative term. One candidate for Speaker of the House lost his race, which expanded the field of candidates to four current legislators competing for the role of Speaker. In the Senate, the primary election outcomes tightened competition between two candidates who want to lead the Senate Republican caucus. Democratic legislators are also evaluating their chances for a role in leading the House and Senate caucuses. Both Republican and Democratic caucuses will elect their leaders after the November election.
In the News
This month, food trucks rolled through city streets under looser state regulations, the Arizona Attorney General joined a coalition of Republican officials that asked a federal judge to stop the Affordable Care Act, drivers in Surprise put away their cell phones, and cursive classes made it back into the headlines. A U.S. Court of Appeals upheld a new Arizona law that limits who can submit a voter's early ballot.
The Arizona Republic highlighted Arizona's eviction process, and The New York Times took a closer look at the motivation behind Arizona's "Red for Ed" movement.
Significant Policy Changes to be Decided by Voters
Though the Arizona Supreme Court upheld challenges that will keep high-profile initiatives on education funding and campaign finance off the ballot, five propositions will still go before voters in November.
Three of these proposals were referred through the legislative process, and approved by a majority of the House and Senate:
Proposition 125 amends the Arizona Constitution to adjust retirement benefits for the state's Corrections Officer Retirement Plan and the Elected Officials' Retirement Plan.
Proposition 126 amends the Arizona Constitution to outlaw any state or local government from imposing a new or increased tax on services.
Proposition 306 amends Arizona statute to prohibit candidates who run with funding from the Arizona Clean Elections Commission from transferring campaign funds to a political party or private tax-exempt organization that attempts to influence elections. It also expands state regulatory oversight over the Arizona Clean Elections Commission.
Two of the proposals made it on the ballot through citizen's initiatives:
Proposition 127 amends the Arizona Constitution to mandate that nongovernmental electric utilities increase their retail energy sales generated from specific types of renewable energy to 50% by the year 2030.
Proposition 305 asks voters whether or not they want to enact the 2017 legislation that expanded the eligibility for enrollment in the state's Empowerment Scholarship Accounts.
For additional information on the propositions, including the viewpoints of individuals who support and oppose each of them, visit the Secretary of State's Election Publicity Pamphlet.
What's Next?
Candidates will step onto the debate stage again as they prepare for the November election.
On the Bright Side…
The University of Arizona received funding to find new methods to ease the psychological burden on cancer patients and those care for them, and the FDA stepped up its efforts to combat minors' use of electronic cigarettes.
Action Alert
​Major Recent Events
House Committee Holds Hearing Addressing MFP; Advocates Hold Briefing
On September 5, the House Energy and Commerce Committee held a hearing on several bipartisan health initiatives, including reauthorization of the Money Follows the Person (MFP) Demonstration Program. Witnesses testifying on MFP were Curtis Cunningham, Vice President, National Association of States United for Aging and Disabilities; and Matt Salo, Executive Director, National Association of Medicaid Directors. Visit the Committee 
web site
for more information or to view archived video of the hearing.
On September 6, The Arc and other advocacy organizations held a briefing for Congressional staff on reauthorization of MFP. Nicole Jorwic, Director of Rights Policy at The Arc was the moderator of the briefing. Speakers were John McCarthy, Founding Partner at Speire Healthcare Strategies, Former Medicaid Director in Ohio and DC; Margaret Gartlgruber, Vice President at RHA Health Services; Mike Oxford, Executive Director for Policy, Topeka Independent Living Resource Center; and Tyree Brown, a person who transitioned back home in Maryland. MFP provides grants to states to transition people from institutions to community based settings. According to a 
report
 from the U.S. Department of Health and Human Services, this program has helped over 63,000 people transition into the community and saved Medicare and Medicaid almost $1 billion as of 2013. The Arc strongly supports reauthorization of MFP.
House and Senate Conference Considers Changes to SNAP in Farm Bill
This summer, the House and Senate enacted separate versions of the Agriculture Improvement Act of 2018 (
H.R. 2
; commonly known as the "Farm Bill"), to reauthorize farm programs and policy as well as the 
Supplemental Nutrition Assistance Program (SNAP)
. The House's version proposes 
major cuts
 to basic food assistance under SNAP, while the Senate's 
bipartisan bill
 does not include the House's proposed cuts to SNAP. Last week, the Farm Bill Conference held a public meeting. Conferees shared perspectives on their efforts to produce an agreement between the House and Senate to reauthorize the Farm Bill before the current authorization expires on 
September 30, 2018
. Visit the Senate Committee on Agriculture, Nutrition, and Forestry for 
archived video
 of the meeting.
In a recent 
op ed
 published in The Hill
, The Arc's Senior Director of Income and Housing Policy, T.J. Sutcliffe, and the Georgetown Center on Poverty and Inequality's co-executive director, Indivar Dutta-Gupta, wrote: "The House's partisan approach and deep cuts to SNAP not only conflict with decades of bipartisan Congressional support for the program, but also are widely opposed. Using the Senate bill as a springboard, Congress should work in a bipartisan manner to produce a final bill that strengthens SNAP, rather than decimates it." Visit The Hill to 
read the full 
op ed
.
Senate Holds Hearing on Kavanaugh Nomination
Last week, the Senate Judiciary held a four-day hearing on the nomination of Brett Kavanaugh to be an Associate Justice on the Supreme Court. The first three days involved questioning on Judge Kavanaugh himself. The fourth day involved additional witnesses, including Elizabeth Weintraub, Advocacy Specialist at the Association of University Centers on Disabilities, and Jackson Corbin, a 13-year-old with Noonan Syndrome. Ms. Weintraub 
testified
 about the importance of self-determination to her as a woman with intellectual disability and Judge Kavanaugh's ruling in Doe Tarlow v. District of Columbia, in which he concluded that people with intellectual disability who have "never been competent" do not have a right to even have their wishes heard or considered in medical decisions (see and share 
video
 of her testimony). Jackson's 
testimony
 related to the importance of the Affordable Care Act to his mother, his brother, and himself, all of whom have Noonan Syndrome, which comes with multiple pre-existing conditions. Visit the Committee web site (
Day 1
, 
Day 2
, 
Day 3
, 
Day 4
) for more information or to view archived video of the hearing. The Arc 
opposes
 Judge Kavanaugh's nomination.
Announcements
$99 Million Awarded for New Housing Vouchers for People with Disabilities
Last week, the Department of Housing and Urban Development (HUD) awarded $98.5 million to 285 public housing authorities across the U.S. to provide new, permanent affordable housing vouchers to nearly 12,000 non-elderly people with disabilities. The vouchers will be provided through the Section 811 Mainstream Housing Choice Voucher Program which assists non-elderly people with disabilities who are transitioning out of institutional or other segregated settings; at serious risk of institutionalization; homeless; or at risk of becoming homeless. 
Click here
 for a comprehensive list of awards, by state. Visit the Technical Assistance Collaborative 
resource page
 to learn more about this program and (when announced) upcoming opportunities for housing authorities to apply for additional funding.
Report on ESSA Equity Indicators Released
The Learning Policy Institute has released a 
report
 titled "Making ESSA's Equity Promise Real: State Strategies to Close the Opportunity Gap" on the use of suspension rates, school climate, chronic absenteeism, extended-year graduation rate, and access to a college-and career-ready curricula in their accountability systems under the Every Student Succeeds Act (ESSA). Students with disabilities face disparities on all five of these measures. Find out if your state is using these factors in its accountability system with these 
interactive maps
.
---
---
The Capitol Roundup is provided weekly throughout the Arizona Legislative session and periodically between sessions as a benefit of Membership in The Arc of Arizona. To continue receiving this publication, visit www.arcarizona.org/become-a-member to start or renew your Membership today!