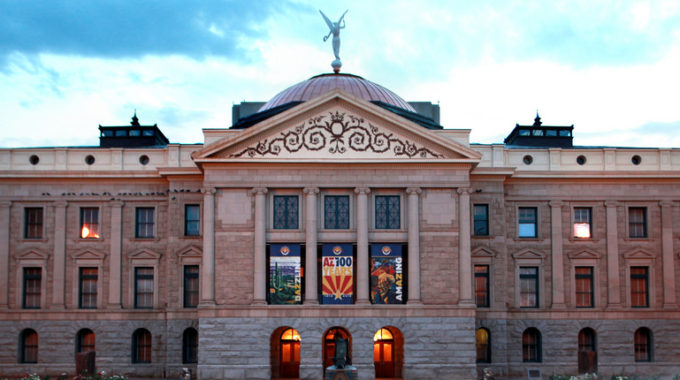 The Capitol Roundup – Primary Election Edition: August 29, 2018
​
The More Things Change
​At the Statehouse…
While Arizona mourns the 
passing of longtime US Senator John McCain
 – and just one day before the senator's body was scheduled to 
lie in state
 in the Capitol – Arizona's primary election drew 
national headlines
 and had big local impacts. Election officials in Maricopa County and Pima County continue to tally votes, and some candidates are still waiting for final results. So far, voter turnout has reached just over 25% of registered voters. (
Click here
 for an up-to-date list of election results.)
The day was overshadowed by frustration with technological difficulties in Maricopa County – a problem that caused some polls to open late. The delays may cause lawsuits and will certainly inspire additional focus on the election processes leading into the November election.
Overall Results
In many cases, the available results of yesterday's election show both Republicans and Democrats moving away from the political center and toward more polarizing views – a shift that pushed some legislative incumbents in both parties out of the running for the general election.
Some incumbents in statewide offices faced defeat, as well: Secretary of State Michele Reagan lost to her Republican challenger Steve Gaynor, and current Superintendent of Public Instruction Dianne Douglas is behind two other Republican candidates in her race for another term. Current Arizona Corporation Commissioner Tom Forese did not receive support for another term in a crowded Republican primary race.
Governor Doug Ducey, however, easily defeated his Republican challenger Ken Bennett and will face David Garcia in the November election. Garcia defeated Steve Farley and Kelly Fryer, his Democratic challengers, to earn the nomination.
Two current members of the U.S. House of Representatives, Martha McSally (R) and Kyrsten Sinema (D), won their parties' nomination for the U.S. Senate seat vacated by retiring Senator Jeff Flake. The primary election results mean that in November, Arizona will elect its first woman to represent the state in the U.S. Senate.
Key Races
This primary election narrowed the number of candidates vying for nominations to the Arizona Corporation Commission, Congress, and legislative districts across the state. It determined the outcome of at least six legislative seats, who will have no additional challenge in the November election. According to The Arizona Capitol Times, this is the lowest number of uncontested seats Arizona has seen in the last 26 years.
Representation of most legislative districts, however, will not be decided until the November general election.
In the race for the Democratic nomination for Superintendent of Public Instruction, speech therapist and political newcomer Kathy Hoffman beat former legislator David Schapira. The Republican race for Superintendent remains too close to call as final votes are counted. Frank Riggs, a former Congressman, currently leads the race; Bob Branch, an IT worker and professor, and incumbent Diane Douglas are within 2,000 votes.
In legislative races, several things stand out in yesterday's results:
Some incumbents got bad news.
Voters chose not to continue the long-term legislative career of current Representative Olivia Cajero-Bedford (D), who sought her ninth term in office. She lost in a race against two political newcomers. Representative Ken Clark (D) also lost his seat in a crowded race of new Democratic candidates, and Representative Drew John (R) lost his race for a seat in the state Senate.
Candidates with headline-grabbing behavior saw mixed results. 
Former legislator Don Shooter (R), who was expelled from the House earlier this year, lost his race for a seat in the Arizona Senate to the incumbent, Senator Sine Kerr. Representative Paul Mosely (R), who recently inspired executive action against legislative immunity for speedy driving, lost his seat. Former Speaker of the House David Gowan, however, who was investigated for misuse of a state vehicle, was the candidate who defeated current Representative Drew John in the race for an Arizona Senate seat. Current Representative David Stringer (R), whose comments on diversity drew criticism, defeated his challenger and will continue his campaign for another term in office.
House and Senate leadership races shifted. 
Representative Darin Mitchell (R) is currently losing his race for re-election – a loss that would also mean an end to his race to be the next Speaker of the House. It is unclear whether the other Speaker candidate, Representative Rusty Bowers, would be unchallenged if Mitchell is out of the running; without Mitchell, some expect other Republicans to announce their desire to be the next Speaker. It is not yet clear what impact the primary election results will have on the race for Senate President.
There's always another race.
Some former legislators may return to office: John Fillmore (R), Greg Patterson (R), and Victoria Steele (D) all previously served in the House, and they are likely to receive their party's nomination to continue their campaigns in the general election.
For up-to-date details on yesterday's election results, click here.
What's Next?
The shift away from the political center means there is a lot at stake in the November election, because candidates in many races will represent very different positions on important issues. The outcome of races for the Arizona Senate will determine whether the Republicans maintain their majority, or if Democrats win enough seats to make a majority or create a 15-15 partisan split that would require bipartisan cooperation.
Voters will have the chance to choose between very divergent views from candidates for major statewide offices, and ballot propositions will determine the future on a wide range of policy areas – including education, energy, and taxation.
Action Alert
Major Events Ahead
House Committee to Hold Hearing Addressing MFP; Advocates to Hold Briefing
On September 5, the House Energy and Commerce Committee will hold a hearing on several bipartisan initiatives, including reauthorization of the Money Follows the Person (MFP) Demonstration Program. On September 6, The Arc and other advocacy organizations will hold a briefing for Congressional staff on reauthorization of MFP. MFP provides grants to states to transition people from institutions to community-based settings. According to a report from the U.S. Department of Health and Human Services, this program has helped over 63,000 people transition into the community and saved Medicare and Medicaid almost $1 billion as of 2013. The Arc strongly supports reauthorization of MFP.
Major Recent Events
Senate Passes Funding Bill for Labor-HHS-Ed
On August 23, the Senate passed the fiscal year (FY) 2019 funding bill for the Departments of Labor, Health and Human Services, Education and Related Agencies (L-HHS-Ed) by a vote of 85-7. A number of amendments were passed to provide funding increases for select programs (such as school-based mental health services, opioid treatment, and child abuse prevention), but the bill did not include controversial policy riders. With only a few legislative days left before the midterm elections, the House is not expected to take up its Labor-HHS-Ed bill before then. A continuing resolution to keep the government funded through November or December is expected.
​
Due to the Labor Day holiday, the federal update will not be published next week. Look for updates on The Arc's blog.
---
---
The Capitol Roundup is provided weekly throughout the Arizona Legislative session and periodically between sessions as a benefit of Membership in The Arc of Arizona. To continue receiving this publication, visit www.arcarizona.org/become-a-member to start or renew your Membership today!