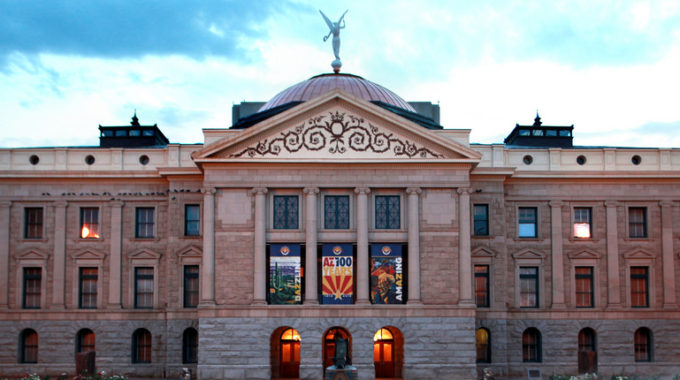 Capitol Roundup – March 29, 2019
Heating Up
​​​​​​​​At the Statehouse…

Hell Week – the last week to hear bills in committee. Long agendas and (theoretically) brief testimony. (It's good to have dreams.) The hustle and bustle of committee meetings meant continued life – or resuscitation – for some bills and the end of the road for others. But news outside the hearing rooms was equally life-changing, as grants to law enforcement in Pima and Maricopa counties meant new opportunities to test backlogged rape kits, resulting in nearly two dozen convictions; Arizona's former Attorney General revived his initiative effort to keep "dark money" out of political campaigns; and a prominent Southern Arizona developer and philanthropist died, leaving a complex legacy of growth and giving.Charter Reform Bill Shelved

The contentious bill to alter a small number of financial practices at Arizona's charter schools was effectively pulled from consideration by House Speaker Rusty Bowers on Monday when he declined to assign it to a committee. Passing the Senate on a party-line vote, SB 1394 was deeply unpopular with Democrats. Bowers, a Republican, initially stated it did not provide adequate "accountability and transparency" and he felt it would not have enough support among Republicans to pass the House. He later issued a second statement in which he placed responsibility for the bill's demise on House Democrats.
Resignation Ends Stringer Probe
Embattled Rep. David Stringer resigned his House seat on Wednesday rather than endure an ethics probe resulting from public comments that were alleged by fellow House members to be racist, as well as in response to media reports of sex crimes charges dating back to the 1980s. Although Stringer and his attorney consistently argued he had never been convicted of a crime, a story published in Friday's Arizona Republic revealed records showing he was accused of soliciting sex with two teenage boys in Maryland in 1983. One of those boys, it was reported, had a developmental disability.

Digital Digits – Big Ones
Arizona could lose tens of millions of dollars in tax revenue, according to analysis by the state's Department of Revenue, if the Legislature passes SB 1460, a measure to exempt a variety of digital purchases from sales taxes. The bill, sponsored by Sen. Michelle Ugenti-Rita, most closely focuses on exempting cloud computing and storage, including online software programs. It is opposed by the League of Arizona Cities and Towns, which expressed concerns that DOR estimates are only about one-half the actual likely impact on state revenues and that local tax revenues will also decrease by nearly $30 million.

Next Up?
Arizona voters may have the opportunity to elect another statewide official under a proposal that passed the House Government Committee on March 28. SCR 1008, sponsored by Sen. J.D. Mesnard, calls for addition of the office of Lieutenant Governor – a position Arizona, unlike 45 other states, has never had. Under current law, the Secretary of State is next in line to succeed the Governor should he or she leave office before completing the existing term (which, for you history buffs, has happened pretty frequently since the 1980s). The resolution passed the Senate easily and now awaits a full House vote. If approved by the House, the question will be put to voters in the 2020 general election; if ratified by voters, the measure will take effect in 2027.

Withdrawn and Redrawn
Initially threatened with failure in the Senate, efforts to create a two-tiered minimum wage in Arizona inched forward this week when the legislation's sponsor, Rep. Travis Grantham, agreed to an amendment proposed by Sen. Tyler Pace to eliminate the requirement that workers paid less than the voter-approved state minimum wage of $11.00 per hour must be full-time students. HB 2523's amended version, which cleared the Senate Commerce Committee on Thursday, would make it permissible to pay all workers under the age of 22 the federal minimum wage of $7.25 per hour. Disagreement remains as to whether the provisions of Prop 206, passed by voters in 2016, permit any minimum wage less than the rate written into that law.

When Life Gives You Lemons…

…make lemonade the State Drink. That's the thinking behind HB 2692, in any case. The proposal is the brainchild of a Gilbert high school student, who realized Arizona presently has no official drink to its name, and the bill's sponsor, Rep. Warren Petersen. And apparently the Arizona Legislature agrees: The bill passed the House with only three dissenting votes (orange juice fans all, no doubt) as well as the Senate Government Committee and now goes to the full Senate. Odds seem in favor of it squeezing through.

Priority BillsHB 2117 (developmental homes; monitoring) permits a service provider that operates a group home or an intermediate care facility for persons with an intellectual disability to install "electronic monitoring devices" in common areas and hallways. The bill passed out of Senate Rules on March 26 and awaits a floor vote in the Senate.HB 2529 HB 2113 (diaper changing stations; public restrooms) as amended, requires any public entity that constructs a new restroom or "substantially renovates" an existing restroom in a public building to include changing stations capable of serving both a baby and an adult. HB 2529 was re-introduced as "Strike Everything" HB 2113 and passed the Senate Health and Human Services committee on Wednesday, March 27.HB 2532 (critical health information; emergency responders) authorizes local governments to establish voluntary programs that assist emergency responders in serving program participants who are involved in motor vehicle emergencies or accidents and who are unable to communicate, by providing responders with critical health information about participants. The bill passed Senate Transportation & Public Safety with amendments on March 27 and awaits a floor vote in the Senate.HB 2558 (appropriation, statewide ADA coordinator) requires the Governor's Office of Equal Opportunity to hire a full-time statewide Americans with Disabilities coordinator to implement an annual plan to carry out the requirements of the Americans with Disabilities Act in Arizona. Despite passing House Government and House Appropriations with bipartisan support, the measure was held in House Rules and was not passed to the Senate.SB 1172 (family caregiver grant program) as amended, establishes the Family Caregiver Grant Program beginning January 1, 2020, for individuals who have expenses due to caring for and supporting a family member in the individual's home. Includes application requirements and income limits, with a maximum of $1,000 for each qualifying family member. The Program self-repeals July 1, 2023. The bill was withdrawn from House Health & Human Services and House Ways & Means and subsequently referred to House Appropriations; it has not yet been placed on a meeting agenda.SB 1211 (intermediate care facilities; licensure) requires any intermediate care facility for individuals with intellectual disabilities operated by the Department of Economic Security or a private entity to be licensed as a health care institution by the State of Arizona and increases central registry background checks for ICF employees. The bill passed House Health & Human Services on March 18 and awaits a floor vote in the House.SB 1483 (vulnerable adults; financial exploitation) permits financial advisors, brokers/dealers, and other qualified individuals to report attempted or suspected financial exploitation of a vulnerable adult to Adult Protective Services and the Arizona Corporation Commission, with immunity from liability. The bill passed Senate Health & Human Services on February 20. The bill passed House Health & Human Services on March 25 and awaits a floor vote in the House.SB 1538 (adult protective services) establishes an "Adult Protective Services central intake unit" responsible for receiving and screening reports of alleged abuse, neglect or exploitation of vulnerable adults and making the necessary referrals. The bill passed House Health & Human Services on March 29 and awaits a floor vote in the House.On the Bright Side…
Arizona ranked fifth in the United States for personal income growth in 2018, according to a report released March 26 by the U.S. Bureau of Economic Analysis at the Department of Commerce. Personal income grew 5.5 percent in Arizona, beating out the national average of 4.5 percent.


​​On the Federal Front…​Action Alert

Tell Your Members of Congress: Fund the Money Follows the Person Program

​​​​​​​Major Recent Events
Senate Republicans Release FY 2020 Budget Resolution With Instructions That Could Affect Medicaid
On March 22, Senate Budget Committee Chairman Mike Enzi (R-WY) released a draft budget resolution for fiscal year (FY) 2020. The budget proposes to reduce the deficit by $538 billion over five years compared to current law, primarily through reductions in mandatory spending. Additionally, it provides reconciliation instructions for five committees to reduce the deficit by a total of $94 billion. To learn more about the budget proposal, see the committee website. Unlike the president's budget, budget resolutions in the House and Senate can be enacted and have the force of law. While the Senate budget is not nearly as extreme as the president's budget, it's inclusion of reconciliation instructions is the first step to developing legislation that could change the structure and financing of the Medicaid program. The House would need to pass the identical measure for such legislation to be developed.

ABLE Age Adjustment Act Reintroduced in House
On March 18, Representatives Tony Cardenas (D-CA), Cathy McMorris Rodgers (R-WA), Steve Cohen (D-TN), Brian Fitzpatrick (R-PA), Michael Turner (R-OH), Max Rose (D-NY), and Debbie Wasserman Schultz (D-FL) reintroduced the ABLE Age Adjustment Act (H.R.1814). This bill amends the Stephen J. Beck, Jr. Achieving a Better Life Experience (ABLE) Act to increase the maximum age of onset limit from before 26 to before 46. Its companion bill, S.651, was introduced in the Senate on March 5. The Arc supports the ABLE Age Adjustment Act.
Announcements
Attend the Disability Policy Seminar on April 8-10
Registration is open for the for the 2019 Disability Policy Seminar, the premier event for bringing the issues and concerns of people with intellectual and/or developmental disabilities to Capitol Hill. Join other passionate advocates and professionals from around the country to get up to date on the latest policy issues and legislation and to advocate for the programs that people with disabilities rely on to live and work in the community.Register today!