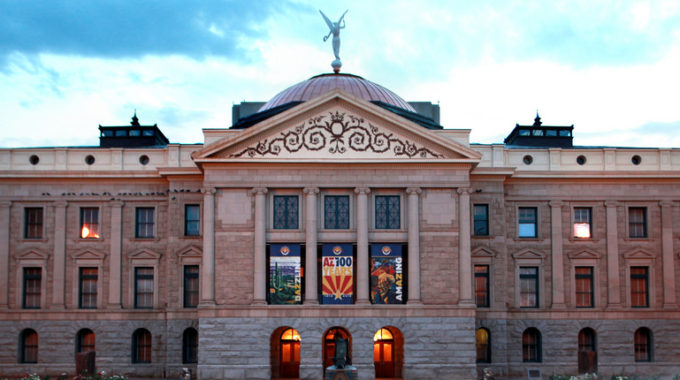 Capitol Roundup – March 22, 2019
Backs to the Well
​​​​​​​​At the Statehouse…

As the Arizona Supreme Court considered the question of whether or not marijuana plant extracts fit within the state's Medical Marijuana law and decided doctor-patient confidentiality does not apply in cases of Medicaid fraud, the House of Representatives passed a voter registration bill supporters say will reduce fraudulent sign-ups but opponents call voter suppression. And the Senate made certain campaign signs for ballot measures now receive the same protections from defacement or theft as those of political candidates. Fair is fair.No Drought of Ideas
Arizona joined with six other Western states on Tuesday to present a finalized Colorado River drought contingency plan to the U.S. Bureau of Reclamation. The seven states that rely upon the Colorado River system for a substantial amount of water – Arizona, California, Nevada, New Mexico, Utah and Wyoming – had been facing a March 19 deadline to submit the plan. It aims to ensure Lake Powell and Lake Mead do not sink to unsustainably low levels in the event of a prolonged drought and includes provisions for states to give up a certain portion of their annual allocations under such circumstances. The plan now requires federal approval to be implemented.
War (Hero) of Words
To the consternation even of many of his own supporters, President Trump engaged in arenewed round of criticisms of deceased Arizona Senator John McCain, via Twitter, interviews and speeches. The outburst prompted unpleasant follow-ups directed at the McCain family from some Twitter denizens. Prominent Republicans, including stalwart supporters of the president, voiced their displeasure, while Gov. Ducey was criticizedfor not responding more vigorously. With no end in sight, the Arizona Republic pointed out friction between the two men goes back nearly two decades.
Strap In…or, Don't
Citing concerns about government intrusiveness and higher priorities for law enforcement officers, the Senate Health and Human Services committee voted down a measure requiring all passengers in motor vehicles to wear seat belts. Rep. Bob Thorpe, a former fire department EMT and the bill's sponsor, argued this is a simple effort that can save nearly 400 lives per year in Arizona. Current state law mandates only that front-seat passengers wear seat belts, and drivers may not be pulled over simply because they or a front-seat passenger fail to buckle-up. Failure to comply with existing law can result in a maximum fine of $10. (No, that's not a typo.)
Stringer Ethics Probe Lingers
The House of Representatives ethics probe into Rep. David Stringer continues and he faces a requirement to make public a number of sensitive documents related to criminal charges from the 1980s, despite his lawyer's contention that release of the documents requires a court order. Stringer has been the subject of an effort to remove him from his House seat following public remarks that were interpreted by many as racist.
Priority BillsHB 2117 (developmental homes; monitoring) permits a service provider that operates a group home or an intermediate care facility for persons with an intellectual disability to install "electronic monitoring devices" in common areas and hallways. The bill passed Senate Health and Human Services on March 20.HB 2529 (diaper changing stations; public restrooms) as amended, requires any public entity that constructs a new restroom or "substantially renovates" an existing restroom in a public building to include changing stations capable of serving both a baby and an adult. Despite passing House Health & Human Services unanimously, the measure was held in House Rules and was not passed to the Senate. This bill will be re-introduced as "Strike Everything" HB 2113 and heard in the Senate Health and Human Services committee on Wednesday, March 27.HB 2532 (critical health information; emergency responders) authorizes local governments to establish voluntary programs that assist emergency responders in serving program participants who are involved in motor vehicle emergencies or accidents and who are unable to communicate, by providing responders with critical health information about participants. The bill is scheduled to be heard in Senate Transportation & Public Safety on Wednesday, March 27.HB 2558 (appropriation, statewide ADA coordinator) requires the Governor's Office of Equal Opportunity to hire a full-time statewide Americans with Disabilities coordinator to implement an annual plan to carry out the requirements of the Americans with Disabilities Act in Arizona. Despite passing House Government and House Appropriations with bipartisan support, the measure was held in House Rules and was not passed to the Senate.HB 2566 (peace officer training; requirements) requires peace officer training prescribed by the Arizona Peace Officers Standards and Training Board to include training on the protocol for interaction when encountering an individual with communication deficits, including deafness, developmental disability, or mental illness, by means of training courses administered by the Commission for the Deaf and the Hard of Hearing. The bill did not receive a hearing in House Public Safety.HB 2665 (health care institutions; education; abuse) requires the Department of Health Services and the Department of Economic Security to jointly develop a curriculum to educate and train all persons who are employed in a capacity of caring for vulnerable adults on the signs of neglect and abuse, including sexual abuse. The bill did not receive a hearing in House Health & Human Services.HB 2666 (mandatory reporting; vulnerable adults; penalties) expands the list of persons with a duty to report a reasonable belief that a vulnerable adult has been the victim of abuse, neglect or exploitation to any "health professional" who has responsibility for the care of the vulnerable adult and makes failure to report a class 6 felony, instead of a class 1 misdemeanor. The bill did not receive a hearing in House Health & Human Services.SB 1172 (family caregiver grant program) as amended, establishes the Family Caregiver Grant Program beginning January 1, 2020, for individuals who have expenses due to caring for and supporting a family member in the individual's home. Includes application requirements and income limits, with a maximum of $1,000 for each qualifying family member. The Program self-repeals July 1, 2023. The bill was withdrawn from House Health & Human Services and House Ways & Means and subsequently referred to House Appropriations; it has not yet been placed on a meeting agenda.SB 1211 (intermediate care facilities; licensure) requires any intermediate care facility for individuals with intellectual disabilities operated by the Department of Economic Security or a private entity to be licensed as a health care institution by the State of Arizona and increases central registry background checks for ICF employees. The bill passed House Health & Human Services on March 18.SB 1483 (vulnerable adults; financial exploitation) permits financial advisors, brokers/dealers, and other qualified individuals to report attempted or suspected financial exploitation of a vulnerable adult to Adult Protective Services and the Arizona Corporation Commission, with immunity from liability. The bill passed Senate Health & Human Services on February 20. The bill received "do pass" recommendation in House Health & Human Services on March 21.SB 1538 (adult protective services) establishes an "Adult Protective Services central intake unit" responsible for receiving and screening reports of alleged abuse, neglect or exploitation of vulnerable adults and making the necessary referrals. The bill passed the Senate on February 28 and was referred to House Health & Human Services; it has not yet been added to a meeting agenda.On the Bright Side…
Gov. Ducey issued a Proclamation on Thursday designating March as Developmental Disabilities Awareness Month in Arizona.

And, a $29 million gift to the Massachusetts Institute of Technology will establish a new research center focused on probing the biology and neuroscience behind Down syndrome. The donation comes from Ana Lucia Villela, Brazil's youngest female billionaire, who has a daughter with Down syndrome.


​​On the Federal Front…​Action Alerts

Tell Your Members of Congress: Fund the Money Follows the Person Program

Major Recent Events
President Releases FY 2020 Budget Request Documents
On March 11, President Trump released his fiscal year (FY) 2020 Budget Request. The budget proposes $2.7 trillion in cuts over 10 years, including cuts to Medicaid, the Affordable Care Act programs, and non-defense discretionary (NDD) programs. NDD programs – which include education, employment, housing, transportation, and more – would be cut by $54 billion (9 percent from 2019 levels alone). Throughout the week, more detailed department budgets have been released, including those for the Departments of Education, Health and Human Services, Housing and Urban Development, and Justice. These department budgets reveal drastic cuts for numerous disability-related programs such as:Office of Disability Employment Policy: -30%Developmental Disabilities Councils State Grants: -29%University Centers for Excellence in Developmental Disabilities: -20%Lifespan Respite: -25%Though the President's Budget Request does not have the force of law, it can set the stage for the Congressional budgets which follow. Click here to see proposed spending levels for disability-related discretionary programs in the President's FY 2020 Budget Request. For more information, see The Arc's statement.

Announcements
Attend the Disability Policy Seminar on April 8-10
Registration is open for the for the 2019 Disability Policy Seminar, the premier event for bringing the issues and concerns of people with intellectual and/or developmental disabilities to Capitol Hill. Join other passionate advocates and professionals from around the country to get up to date on the latest policy issues and legislation and to advocate for the programs that people with disabilities rely on to live and work in the community.Register today!