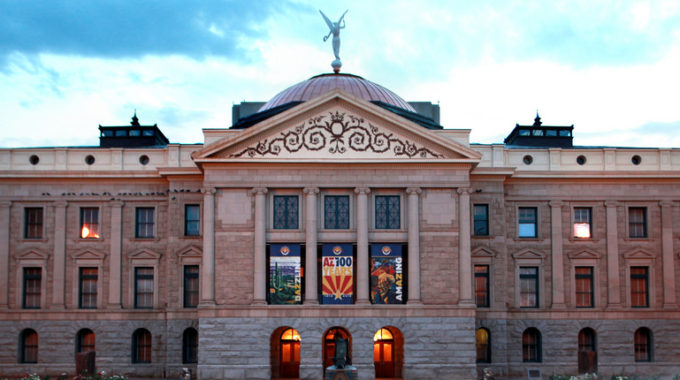 Capitol Roundup – March 15, 2019
Equal and Opposite Arguments
​​​​​​​​At the Statehouse…

Lawmakers engaged in spirited floor debate this week over a decades-old issue while an Arizona grocery chain called it quits on robotic grocery deliveries. Between those two extremes, long-discussed charter school reform got a vote in the Senate but left opponents and supporters still at odds, the list of candidates to fill a state Supreme Court vacancy wasmissing a prominent figure, and a new biography of Arizona icon – and first woman on the U.S. Supreme Court – Sandra Day O'Connor offered a view of her life never before seen.
Reduced Minimum Wage Measure Moves Forward
Despite protests from individuals most likely to be affected, as well as some polling showing the measure to be unpopular among Arizonans of both parties, a bill that allows Arizona businesses to pay the federal minimum wage to certain workers, rather than the higher state minimum wage approved by voters in 2016, passed the House and moved to the Senate Commerce committee. HB 2523, sponsored by Travis Grantham (R-Gilbert), would permit employers to pay workers under 22 years of age who also are full-time students the federal minimum of $7.25 per hour instead of the current $11.00 per hour mandated by the Fair Wages and Healthy Families Act that passed in the 2016 general election.

Permanent Early Voter Rolls May Not be So Permanent
Passage of SB1188 in the Senate puts into play the fate of approximately 200,000 Arizonans' registration on the state's Permanent Early Voting List. The measure, sponsored by Michelle Ugenti-Rita (R-Fountain Hills), would remove the registrations of individuals from the PEVL who have not voted early in two consecutive elections. The bill squeaked through the Senate with a 16-14 vote and now lands with House Elections. It has not yet been added to a meeting agenda.

Priority BillsHB 2117 (developmental homes; monitoring) permits a service provider that operates a group home or an intermediate care facility for persons with an intellectual disability to install "electronic monitoring devices" in common areas. The bill will be heard in Senate Health and Human Services on March 18.HB 2529 (diaper changing stations; public restrooms) as amended, requires any public entity that constructs a new restroom or "substantially renovates" an existing restroom in a public building to include changing stations capable of serving both a baby and an adult. Despite passing House Health & Human Services unanimously, the measure was held in House Rules and was not passed to the Senate.HB 2532 (critical health information; emergency responders) authorizes local governments to establish voluntary programs that assist emergency responders in serving program participants who are involved in motor vehicle emergencies or accidents and who are unable to communicate, by providing responders with critical health information about participants. The bill passed the House without objection and was referred to the Senate Transportation & Public Safety committee; it has not yet been placed on a meeting agenda.HB 2558 (appropriation, statewide ADA coordinator) requires the Governor's Office of Equal Opportunity to hire a full-time statewide Americans with Disabilities coordinator to implement an annual plan to carry out the requirements of the Americans with Disabilities Act in Arizona. Despite passing House Government and House Appropriations with bipartisan support, the measure was held in House Rules and was not passed to the Senate.HB 2566 (peace officer training; requirements) requires peace officer training prescribed by the Arizona Peace Officers Standards and Training Board to include training on the protocol for interaction when encountering an individual with communication deficits, including deafness, developmental disability, or mental illness, by means of training courses administered by the Commission for the Deaf and the Hard of Hearing. The bill did not receive a hearing in House Public Safety.HB 2665 (health care institutions; education; abuse) requires the Department of Health Services and the Department of Economic Security to jointly develop a curriculum to educate and train all persons who are employed in a capacity of caring for vulnerable adults on the signs of neglect and abuse, including sexual abuse. The bill did not receive a hearing in House Health & Human Services.HB 2666 (mandatory reporting; vulnerable adults; penalties) expands the list of persons with a duty to report a reasonable belief that a vulnerable adult has been the victim of abuse, neglect or exploitation to any "health professional" who has responsibility for the care of the vulnerable adult and makes failure to report a class 6 felony, instead of a class 1 misdemeanor. The bill did not receive a hearing in House Health & Human Services.SB 1172 (family caregiver grant program) as amended, establishes the Family Caregiver Grant Program beginning January 1, 2020, for individuals who have expenses due to caring for and supporting a family member in the individual's home. Includes application requirements and income limits, with a maximum of $1,000 for each qualifying family member. The Program self-repeals July 1, 2023. The bill passed the Senate on February 27 and was referred to House Health & Human Services and House Ways & Means; it has not yet been placed on a meeting agenda.SB 1211 (intermediate care facilities; licensure) requires any intermediate care facility for individuals with intellectual disabilities operated by the Department of Economic Security or a private entity to be licensed as a health care institution by the State of Arizona and increases central registry background checks for ICF employees. The bill passed House Health & Human Services on March 14.SB 1483 (vulnerable adults; financial exploitation) permits financial advisors, brokers/dealers, and other qualified individuals to report attempted or suspected financial exploitation of a vulnerable adult to Adult Protective Services and the Arizona Corporation Commission, with immunity from liability. The bill passed Senate Health & Human Services on February 20. The bill will be heard in House Health & Human Services on March 21.SB 1538 (adult protective services) establishes an "Adult Protective Services central intake unit" responsible for receiving and screening reports of alleged abuse, neglect or exploitation of vulnerable adults and making the necessary referrals. The bill passed the Senate on February 28 and was referred to House Health & Human Services; it has not yet been added to a meeting agenda.On the Bright Side…
The Arizona ABLE Program reached its one-year anniversary on March 5. The federally-approved tax-free savings plan enables individuals with disabilities to save and invest up to $15,000 each year without losing eligibility for government assistance programs.


​​On the Federal Front…​Major Recent Events
Military Education Savings Account Bill Introduced

On March 7, Senators Ben Sasse (R-NE), Tim Scott (R-SC), and Tom Cotton (R-AR) introduced the Education Savings Accounts for Military Families Act of 2019 (S.695). This bill would create "Military Education Savings Accounts" that parents serving in the military could use for private school or other education expenses for their children. The Arc opposes this bill because it directs public funds to private schools that are not required to follow the requirements of the Individuals with Disabilities Education Act or the accountability provisions under the Every Student Succeeds Act. View The Arc's position statement on education, including school choice.

Federal Judge Vacates ED Decision to Delay IDEA Racial/Ethnic Disproportionality Rule

On March 7, a Federal District Court judge overturned the Education Department's (ED) decision to delay implementation of the 2016 significant disproportionality rule because it was "arbitrary and capricious" and the department "failed to provide a reasoned explanation" for its decision. The requirement for states and school districts to collect and report data on significant disproportionality, and take certain action if it is found, was added to the Individuals with Disabilities Education Act (IDEA) in 2004. However, since that time, few states and school districts have reported any such significant disproportionality. In response to this problem, documented in a 2013 study by the Government Accountability Office (GAO), the Department of Education issued regulations in 2016 to require a standard methodology to calculate significant disproportionality on the basis of race in identification, placement, and discipline. In 2018, the ED announced it would delay implementation of the rule. The Arc is pleased with the court ruling, which will ensure states and school districts move forward with implementation.

Air Carrier Access Amendments Act Reintroduced
On March 6, Senator Tammy Baldwin (D-WI) and Representative James Langevin (D-RI) reintroduced the Air Carrier Access Amendments Act (S.669, H.R.1549). This bill improves accessibility of air travel for people with disabilities by creating a private right of action for violations, requiring new airplanes to meet minimum accessibility standards, and requiring removal of access barriers on existing planes where feasible. The Arc supports this legislation.

ABLE Age Adjustment Act Reintroduced

On March 5, Senators Bob Casey (D-PA), Jerry Moran (R-KS), Chris Van Hollen (D-MD), and Pat Roberts (R-KS) reintroduced the ABLE Age Adjustment Act (S.651). This bill amends the Stephen J. Beck, Jr. Achieving a Better Life Experience (ABLE) Act to increase the maximum age of onset limit from before 26 to before 46. The Arc supports the ABLE Age Adjustment Act.

Announcements
President Releases FY 2020 Budget Proposal
On March 11, President Trump released his fiscal year (FY) 2020 budget. The budget proposes $2.7 trillion in cuts, including a cut of non-defense discretionary spending by 5 percent below FY 2019 caps. The Arc will provide further analysis in next week's edition of Capitol Insider.

Attend the Disability Policy Seminar on April 8-10
Registration is open for the for the 2019 Disability Policy Seminar, the premier event for bringing the issues and concerns of people with intellectual and/or developmental disabilities to Capitol Hill. Join other passionate advocates and professionals from around the country to get up to date on the latest policy issues and legislation and to advocate for the programs that people with disabilities rely on to live and work in the community.Register today!