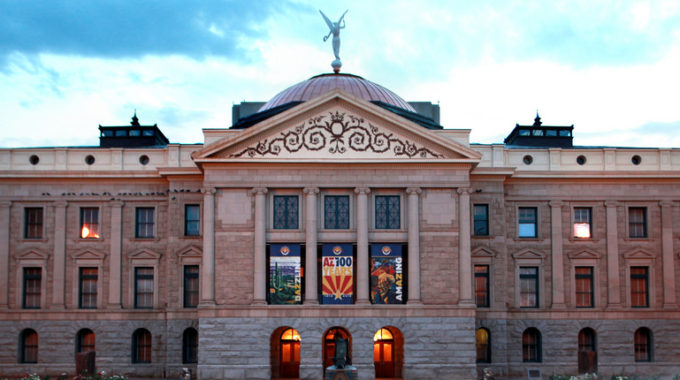 The Capitol Roundup – Midterm Election Edition: November 7, 2018
There was something for members of every political party to celebrate and mourn in yesterday's election, and the results of some key races are still being tallied.
Many Arizona voters participated in the election, and the voter turnout appears likely to break the state record of 1.7 million voters in a midterm election (an election that does not include a U.S. Presidential race). Young voters increased their participation rate, as well – a fact that was demonstrated by long lines (and free pizza) on the ASU campus.
Democrats did not achieve the full "blue wave" of political wins they hoped for in Arizona, but they gained three seats in the Arizona House of Representatives. Republicans maintained a majority in both chambers of the state legislature and most of the statewide offices. Democrats gained a majority in the U.S. House of Representatives, and in Arizona's delegation to the U.S. House. Republicans maintained control of the U.S. Senate.
Congress
Arizona's current members of Congress won re-election as voters returned Representatives Tom O'Halleran (D), Raúl Grijalva (D), Paul Gosar (R), Andy Biggs (R), David Schweikert (R), Ruben Gallego (D), and Debbie Lesko (R) for another term in the U.S. House of Representatives.
Former Phoenix Mayor Greg Stanton (D) defeated Steve Ferrara (R) to win the open Congressional seat in District 9, and Ann Kirkpatrick (D), who previously served in Congress, defeated Lea Marquez Peterson (R) in the race for the open seat in District 2. Kirkpatrick's win moves Democrats into the majority of Arizona's delegation in the U.S. House: the seat was previously held by Representative Martha McSally (R).
The results of the hotly contested race for Arizona's U.S. Senate seat remain too close to call. Congresswoman Martha McSally (R) currently holds a narrow lead over Congresswoman Kyrsten Sinema (D).
State
Governor Doug Ducey (R) won another four years in office, defeating Democratic challenger David Garcia by a wide margin. Arizona Attorney General Mark Brnovitch (R) and State Mine Inspector Joe Hart (R) won re-election, as well. Political newcomer Steve Gaynor (R) currently leads the race against state Senator Katie Hobbs (D) to be the next Arizona Secretary of State, and current state Senator Kimberly Yee will be the next State Treasurer.
School Superintendent
The race to be the next Superintendent of Public Instruction proves that every vote matters: Frank Riggs (R) has a very narrow lead over Kathy Hoffman (D), but that has repeatedly changed as county recorders process ballots. This is a close race that could remain undecided until the final ballots are tallied.
Legislature
Several key races in the Arizona legislature remain too close to call, but Republicans will maintain their majority in both the House and Senate.
Democrats gained three seats in the House, defeating Republican incumbents Todd Clodfelter (LD 10), Jill Norgaard (LD 18), and Maria Syms (LD 28). Representative Bob Thorpe (R) leads Democratic challenger Felicia French (D) in a race that is still too close to call in District 6, and the race for a seat in legislative District 17 is still undecided – Democratic candidate Jennifer Pawlik currently leads Republican candidate Nora Ellen.In the Senate, the partisan split will likely continue to be 17 Republicans to 13 Democrats.  The hotly contested race in District 28 continues as Senator Kate Brophy McGee (R) maintains a narrow lead over Christine Marsh (D), and Senator Sylvia Allen (R) maintains a growing lead over Democratic challenger Wade Carlisle in the District 6 Senate race.
Republican candidates Rodney Glassman and Justin Olson are leading in the race against Democratic candidates Sandra Kennedy and Kiana Sears.
Voters overwhelmingly rejected Proposition 305, overturning the legislature's expansion of the state's Empowerment Scholarship Account program.  The margin is currently 65% – 35%.
Proposition 127, which would have amended the constitutional requirement to require 50% of utilities' retail energy sales from renewable resources by 2030, failed. The margin is currently 70% – 30%.Proposition 125, which allows the state to adjust some retirement benefits for correctional officers and elected officials to address pension overfunding, passed. The margin is currently 52% – 48%.
Proposition 126, which prohibits state and local governments from imposing a new or increased tax on services, passed. The margin is currently 65% – 35%.
Proposition 306, which shifts rulemaking authority and alters funding transfer requirements for the Arizona Clean Elections Commission, passed. The margin is currently 56% – 44%.
Note: For a list of bonds and overrides related to schools and education around the state, click here. To view the outcomes of those and other local ballot questions, visit your county recorder's website.
Newly elected and returning state legislators will gather at the Arizona Capitol this week to elect leadership teams for House and Senate Republican and Democratic caucuses. These decisions are critical to the legislative process, as the elected leadership teams will decide committee chairmanships and policy priorities.
If you live in Phoenix, the campaign cycle continues: Kate Gallego and Daniel Valenzuela will continue their races until a 
runoff election
 in March.
---
The Capitol Roundup is provided weekly throughout the Arizona Legislative session and periodically between sessions as a benefit of Membership in The Arc of Arizona. To continue receiving this publication, visit www.arcarizona.org/become-a-member to start or renew your Membership today!
​