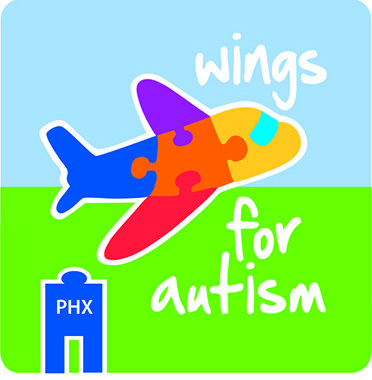 Wings for Autism® returns to Phoenix Sky Harbor International Airport on Saturday, September 26th!
The Arc of Arizona is bringing Wings for Autism® back to Sky Harbor in Fall 2015 — and registration is now open! This national program of The Arc offers young people with autism spectrum disorders and other intellectual/developmental disabilities (I/DD), and their families, a unique "airport rehearsal" designed to ease the uncertainties and discomfort they may feel when traveling by airplane.By simulating each step of a real-life airport process –- parking, check-in and ticketing, TSA security checks, boarding, safety announcements and even taxiing around the runways (everything except actually leaving the ground!) –- Wings for Autism allows participants to understand the airport and airplane experience in a low-stress, customized environment. This experience can make traveling by air a smoother and less overwhelming event for families in the future.
The

 

Arc

 

of

 

Arizona

 

and our airport partners – American Airlines, Southwest Airlines, Transportation Security Administration and Sky Harbor – invite you or those you care for to take part in this no-cost, family-friendly event.
Please note:
A maximum

 

of

 

four (4) attendees may register from each family.
Made possible in partnership with: